Say goodbye to clutter: Anko India introduces stylish and functional home storage options
May 26, 2023
GLOBAL PR CONNECT (GPRC)
Gurugram (Haryana) [India], May 26: Anko, Australia's much-loved household retail brand, has announced the launch of its latest collection of home storage options in India via Amazon. As clutter continues to be a challenge for many Indian households, Anko India aims to revolutionize the way people organize and enhance their living spaces with a 500+ wide range of functional and stylish storage offerings.
With Anko India's exciting home storage options, organizing your living spaces has never been easier or more stylish. From versatile storage boxes to modular shelving units and trendy wall-mounted organizers, these innovative solutions offer the perfect blend of functionality and aesthetic appeal. Say goodbye to clutter and welcome a more organized and harmonious home with Anko India's top-notch storage solutions.
1.

The perfect home storage organizer for those seeking a sleek and contemporary solution. Crafted from white engineered wood, this bookshelf offers a stylish and glossy finish that effortlessly complements any home decor. Whether you're a book lover or simply looking for a versatile storage shelf, the Anko 4 Cube Unit Bookshelf is the ultimate choice for those seeking functionality, style, and organization in one elegant package.
2.



A must-have for every kitchen. These 120 ml glass jars with tin lids are designed to keep your food fresh and flavorful for longer periods. With their airtight and leak proof seal, you can confidently store a variety of ingredients, including jams, preserves, spices, and more. Experience convenience, freshness, and peace of mind with this essential addition to your kitchen arsenal.
3.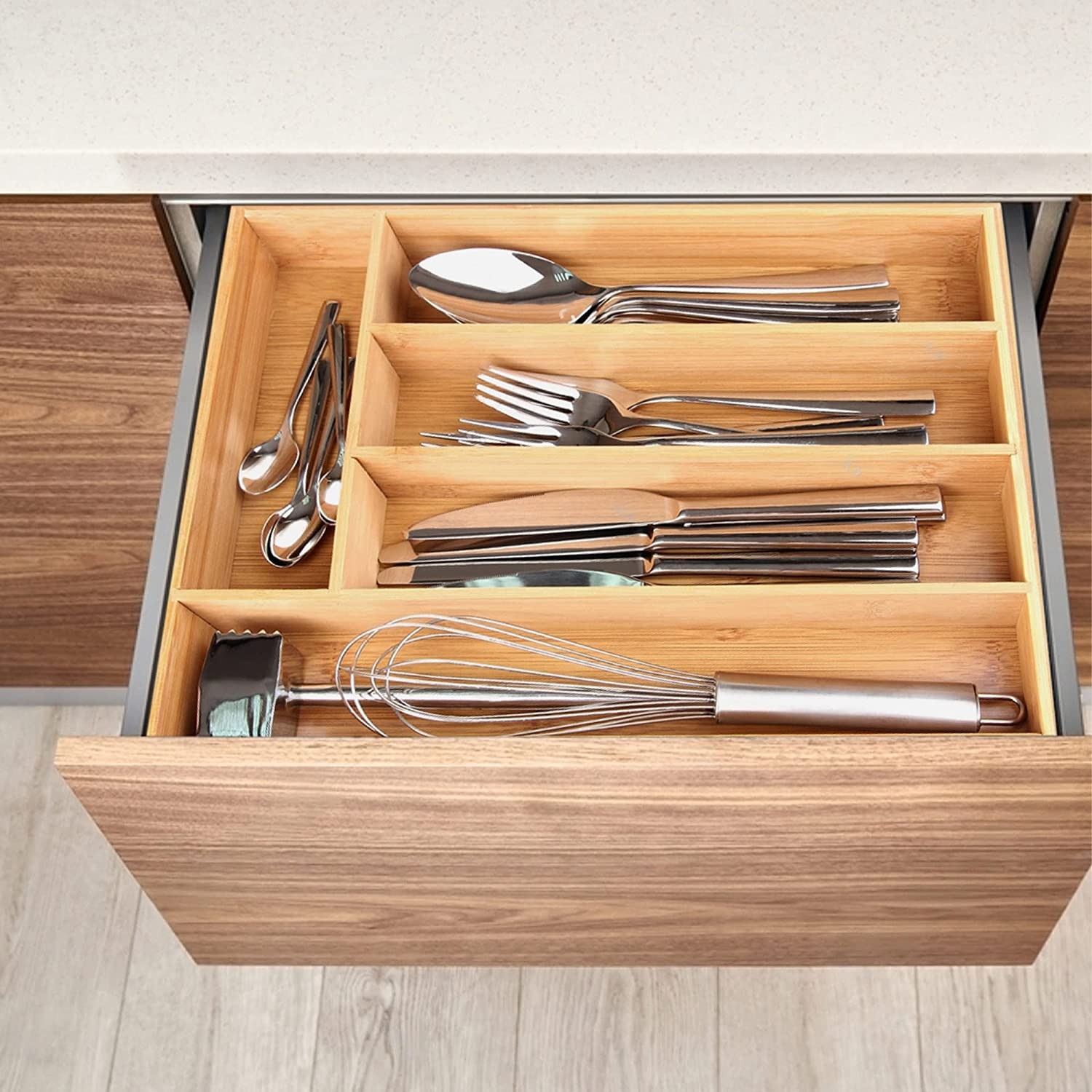 Introducing the Anko Expandable Tray with 7 Sections, the ultimate solution for efficient kitchen organization. This versatile tray is designed to keep your forks, spoons, spatulas, stirrers, and other utensils neatly organized and easily accessible. With its seven sections, you can categorize and separate your utensils, ensuring a clutter-free and well-organized kitchen environment.
4.



A versatile and stylish solution for decluttering and organizing various items in your home or office. Crafted from sustainable bamboo, this organizer drawer offers a natural and aesthetic appeal that seamlessly blends with any decor. With its generous size and multiple compartments, it is perfect for storing kitchen cutlery, office supplies, makeup, and more.
5.



The ultimate solution for keeping your fridge organized and your food fresh. This set of 1.7-liter fridge storage containers is designed to provide a hassle-free storage solution for storing fruits, vegetables, salads, and more. Made from BPA-free materials, these containers ensure the safety and freshness of your food while promoting a healthy lifestyle.
6.



The game-changer for your home organization needs. This versatile storage solution is here to revolutionize the way you declutter and organize your space. Whether it's the kids' toys, clothes, or even your collection of sarees and shirts, this foldable and collapsible storage cube is designed to handle it all. The trendy gray confetti print adds a touch of sophistication to any room, elevating your decor while providing practical storage.
7.



A stunning and practical addition to elevate your home decor and keep your space organized. With its sleek and stylish 3-tier Scandi design, this bookshelf seamlessly blends functionality with aesthetics. Crafted to perfection, it offers ample storage space for your books, decor items, and cherished belongings. Whether placed in your home, bedroom, study room, drawing room, or dining room, this versatile storage shelf becomes a focal point that enhances the ambiance of any space.
(Disclaimer: The above press release has been provided by GLOBAL PR CONNECT (GPRC). ANI will not be responsible in any way for the content of the same)