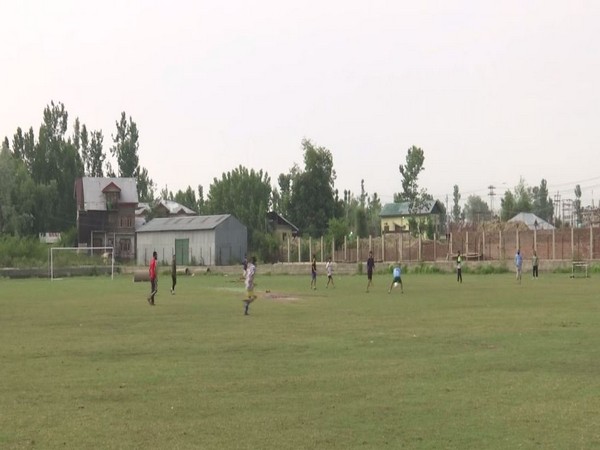 Government develops football stadium in Srinagar
Aug 08, 2020
Srinagar (Jammu and Kashmir) [India], August 8 (ANI): Football is one of the many sports, which is played by all age groups in Jammu and Kashmir. Many youths of the valley have reached the national and international level while making the Union Territory proud of their football skills.
To help the youth of Srinagar to aspire for a better future in sports and especially in football, Jammu and Kashmir government has developed a football ground here in the Alichibagh area.
Sports enthusiasts said they are thankful to the government and request the authorities to finish the remaining work soon.
"This stadium has benefitted us. I am a football player and head of an academy. I am giving coaching to players here in this stadium. I request government authorities to finish the remaining work like levelling of soil and provide all the facilities, "Nisar Khan, football player and coach told ANI.


Former football player, Tariq Ahmad said this ground is one of the best ground in the valley to play all kind of sports.
"When the ground did not come into existence, it was water all over here. Sports Council has developed this ground. It is one of the best ground in this area. It will help the youths to excel in their career and improve their sports skills," Ahmad said.
A local resident, Manzoor Beig said, "Government has constructed a good stadium here. We are thankful to the sports council for giving this stadium. I regularly come here. Some small works like fencing, lighting are needed to be done."
Shahid Choudhary, District Magistrate Srinagar said the government has developed this football playground on demand of the local players and football coaches.
"There was a demand for the football ground by local players and football coaches. We have included football ground in our Rs 25 crore infrastructure project in the area. It will be helpful to youth to groom their skills of football and they can play all types of sports on the ground," he said.
Footballers like Mehrajuddin Wadoo, Dimple Bhagat and Wasim Feroze are some of the names who made big at the national level and made the valley proud. This ground will also help the local footballers to improve their skills and play for the country. (ANI)